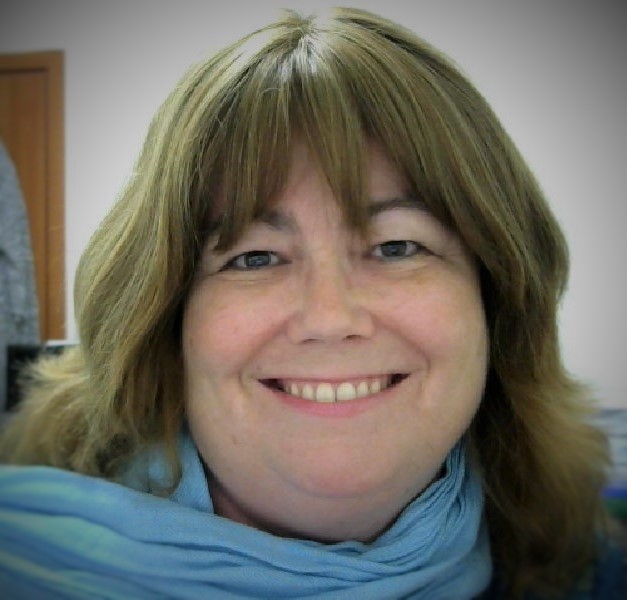 Score for the opening of the second movement of String Quartet no. 3 (click youtube icon just below to hear the whole movement): .pdf file
File Size:
49 kb
File Type:
pdf
Download File
---
Born in England in 1963, Dr Gila (formerly known outside Israel as Gillian) Carcas is an accomplished composer, musician and teacher.
Qualifications include a PhD in Composition from Durham University, and Gila has taught at various British institutions including Southampton University and the Royal College of Music. She has composed well over fifty pieces of music, ranging from solo and small chamber works to full orchestral pieces and a chamber opera. Since moving to Israel in 2004, Gila has also arranged many Jewish melodies for classical ensemble.
Gila teaches piano, violin, theory and composition to students of all ages. Her CD "Transformations" containing various of her instrumental pieces has been released and can be bought via this page:
​http://www.musicandmediaconsulting.com/mmc-recordings/transformations/
(The piece playing when opening this page is "Cissbury Ring" on audio track 2)
LATEST NEWS:
Gila's solo double bass piece "Indigo Dreams" received its Italian and European premiere by Giorgio Magistroni on 16th April 2019 in Milan at the Museo del Novecento, following a call for scores to "Il contrabbasso contemporaneo - Omaggio a Fernando Grillo." You can listen to the entire concert on youtube (Gila's piece is about six and a half minutes in) at:
https://www.youtube.com/watch?v=0M8f66NMdFg
It was performed again by the same musician on 20th May 2019 at the Novara Conservatory, and Gila flew to Italy especially to attend that performance.
​
Several of Gila's pieces received international performances in 2017. In April, "A Pink-Hued Desert Dawn" for wind ensemble was premiered by Vent Nouveau in New York as part of the Listening to Ladies series. You can listen to the recording of this piece at:
https://soundcloud.com/vent-nouveau/listening-to-ladies
.
In July 2017, Gila visited Lviv, Ukraine for a few days as her recent piece "Amaranth" was one of the finalists in the Bruno Maderna Composition Competition there. This piece is on youtube at:
https://www.youtube.com/watch?v=P-_bdmmHd4U
"Beside the Lake at Taize" (you can hear this work below) received an Australian premiere in August 2017 by the Muses Trio as part of the Women in the Creative Arts Conference in Canberra. The Trio have performed this work in other concerts following its Australian premiere and it is now part of their repertoire.
Gila plans to work on recordings for a new CD of some of her musical arrangements in the near future.
Music audios:

1) Indigo Dreams for solo double bass. Premiered by the same performer as on this recording, Danny Felsteiner in 2010, this piece was composed in 2001. The ideas explored originally stem from an earlier work from 1991 - "Suite in Gold and Blue" - when a solo double bass was used to imitate the sound of an Australian didgeridoo in a short movement entitled "Nighttime Dreaming", referring to the Aboriginal concept of "Dreaming" which evokes the sacredness of the earth. Hence the title of this piece: "Indigo Dreams": in this later work the techniques of shifting from bowing normally to the wispy sounds of bowing as closely as possible to the bridge (sul ponticello) and back again, the use of microtones, harmonics and glissandi are explored much more thoroughly and expansively but still hark back conceptually to the earlier "Nighttime Dreaming".

2) Cissbury Ring for clarinet, violin, cello and piano. One of the two "Rings" on the South Downs, Cissbury Ring, the largest hill fort in my home county of Sussex, is about sixty-five acres in size and has a history dating back over 5000 years. It is a place I often liked to visit and it has wonderful views of the sea only a few miles away. This piece was commissioned in 1995 by South East Arts, Horsham District Arts Council and Horsham Music Circle for a premiere by the ensemble Gemini, which took place in November of that year. I used my imagination of the long history of the site, from the time of Neolithic farmers to what would have been impressive walls and ditches built in the Iron Age, to its crumbling into disuse but still with a clear presence, in constructing the music. Musically there is a deliberate and gradual transformation to an open chord on E in the middle of the piece, a pitch which for me, with its connections to the bright key of E major, is full of light, before more notes are added back into the music evolving into a downward progression of melodies culminating in the repeated struck harmonics on the piano strings which also open the piece.
Players: clarinet - Danny Erdman; violin - Yael Barolsky; cello - Ella Toovey; piano - Imri Talgam; conductor - Yuval Zorn

3) The Stones of Swinside Fell for flute, violin and piano. Composed in 1992 and premiered in 1994. This piece was inspired by a stone circle in the Lake District in England and was premiered in the USA. Recording from live performance in St Louis, Missouri, USA and included on the the Synchronia All Live CD.
Players: flute - Betsy Feldman; violin - Beth Felice; piano - Timothy Vincent Clark

4) Drumfire for four percussion parts. Various elements eventually combined into the conception of this piece which was composed in 1999: wandering around Stonehenge Festival at night in the early 80s and finding myself entranced by the many fires burning, learning about polyrhythms when teaching music later on, and having a hands-on experience of various percussion instruments from around the world while at the Dartington International Summer School in the late '90s. My aim in this work is to create an evocation of fire in sound. Although composed for four percussion parts in several sections: Flickering, Flames Dancing, Burning, Conflagration, Rustling Embers, it is meant to be experienced as an evolutionary and single through-composed entity. Flames never stay still but are continually changing as the fire builds up and then dies down. The tempo is quarter note = 120 and the work is written almost in entirely in 4/4 throughout, in order to simplify as far as possible the realisation of the piece with regard to the complexities of the largely polyrhythmic flux and flow of its construction.
Players: Oded Geizhals and Amir Lavie

5) Autumn for viola and piano. Written in a particularly accessible and simpler style than most of my music, this piece was composed especially for my father, Laurie Carcas, in 1998. He conducted choirs and orchestras, while also maintaining a busy career outside music, and he played the viola. I wanted him to enjoy playing this short work. Sadly, although he performed this piece on one occasion in public, it was not long before he became ill in late 1999 and subsequently passed away in October 2000. The music starts in D major/D mixolydian mode and moves to Eb major, in which key the piece ends. As well as incorporating modal elements in the music, I have used traditional harmonies with added diatonic pitches in its construction.
Players: viola - Amit Landau; piano - Ofra Yitzhaki ​


​